It's been a while since I actually wrote anything about the books I read, so it's about time. At the time of writing, I've read a total of 14 books. Most I've actually enjoyed quite a bit, but there's not very many that I decided to keep, because certain books you can really only read once. Once you know the plot, it doesn't get better with rereads.
Anyway, without further ado, here are the books I read:
January
Deadline by Mira Grant –  the second book in the Newsflesh Trilogy. As you know, if you read my review, I absolutely loved the Newsflesh Trilogy. So, this is one of the books I kept around for a possible reread.
---
De Oceaan aan het Einde van het Pad (original title: The Ocean at the End of the Lane) by Neil Gaiman – this was a pretty good read, although it's just not really the kind of book I enjoy very much.I prefer my books a little more straightforward.
---
Het Gulden Vlies van Thule by Thea Beckman – the third book in the Toekomst Trilogie (Furture Trilogie). I really liked this one, though not as much as the first book in the trilogy. Somehow, that's still the best one.
---
The Farm by Emily McKay – I thought the story itself was really interesting. The writing however didn't really appeal to me. I feel like there should probably be a continuation of this somewhere, but since I didn't want to continue reading it anyway, I decided I should just move on.
---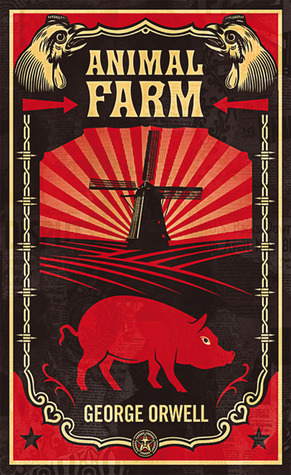 Animal Farm by George Orwell – This was my first time ever reading Animal Farm and I can only just recommend it. It is weirdly appropriate again in today's world. Absolutely a great read!
---
February
Dem Tod auf der Spur by Michael Tsokos – a collection of short true stories. Michael Tsokos is a medical examiner and has seen a great number of dead bodies come across his examination tables. He describes a couple of these cases in this book. I thought it was absolutely fascinating. The truth can be so strange!
---
Blackout by Mira Grant – the last book in the Newsflesh Trilogy. Loved it!
---
FEM – Freiheitseinschränkende Maßnahmen by Jutta König – a book a read for work, mostly at work. It deals with measures that restrict the freedoms of patients. Very interesting.
---
In Defence of English Cooking by George Orwell – it includes several of Orwell's essays on freedom of speech. Again, something that is still relevant today, as these rights seems to be getting restricted again.
---
The Man in the High Castle by Philip K. Dick – I did not finish reading this book, I stopped and got rid of it. The premise sounds absolutely amazing and fascinating. However, the writing style is terrible. Well, it did not meet my personal preferences. I did not get further than about 20 pages in.
---
Das Autogene Training by Abbas Schirmohammadi – another book I got and read for work. It's a relaxation technique that's been proven very effective. In psychology, conscious relaxation should not be underestimated.
---
March
The Chemist by Stephanie Meyer – something completely different from what we've read so far by Meyer. However, besides the one huge cliche (you'll know if you've read it as well), it actually a great book with a kick-ass female main character.
---
Lost in a Book by Jennifer Donnely – A Beauty and the Beast story. However, I wasn't impressed. I'm still planning on writing a full review, but the thing that bothered me most was how dumb Belle was. In the movies, as in the original story, she's definitely smarter than that.
---
Das Joshua Profil by Sebastian Fitzek – one of my favorite German writers of the moment. This is a psychological thriller. What would happen if crimes could be predicted? I thoroughly enjoyed reading this book, but since I now know the plot, I won't be able to read it again. Luckily, I've still got more of his books to go through.
---
Those are the books that I've read so far this year. How many books have you gotten through so far? Are any of the books I've read on your wishlist? Let me know in the comments!