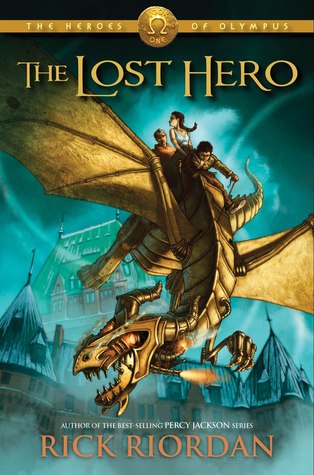 Synopsis
Jason has a problem.
He doesn't remember anything before waking up in a bus full of kids on a field trip. Apparently he has a girlfriend named Piper, and a best friend named Leo. They're all students at a boarding school for "bad kids." What did Jason do to end up here? And where is here, exactly?

Piper has a secret.
Her father has been missing for three days, ever since she had that terrifying nightmare about his being in trouble. Piper doesn't understand her dream, or why her boyfriend suddenly doesn't recognize her. When a freak storm hits during the school trip, unleashing strange creatures and whisking her, Jason, and Leo away to someplace called Camp Half-Blood, she has a feeling she's going to find out.

Leo has a way with tools.
When he sees his cabin at Camp Half-Blood, filled with power tools and machine parts, he feels right at home. But there's weird stuff, too—like the curse everyone keeps talking about, and some camper who;s gone missing. Weirdest of all, his bunkmates insist that each of them—including Leo—is related to a god. Does this have anything to do with Jason's amnesia, or the fact that Leo keeps seeing ghosts?

---
Bullet-point review
★★★★☆

+ different points of view
+ hilarious one-liners
+ plot
 – something seemed missing

---
Full Review
More from the world of Percy Jackson. Can it live up to Percy Jackson though? Turns out: Yes. Yes it can! The book is told from three separate points of view. In a very rare occurrence, the different points of view are actually useful. The main characters are pretty much constantly together and the story telling switches between their different perspectives, adding different thoughts and more knowledge to the situations at hand.
Some things have changed since we last saw Percy's world. All the minor Greek gods have their own cabins as well, and all the heroes have indeed been claimed by their godly parents. Well, sort of… Plus we find out about (highlight for spoiler): Camp Jupiter
The plot was great! Lots of action, lots of fun, and a lot of weirdness. I have a feeling this is going to be a great series!
---