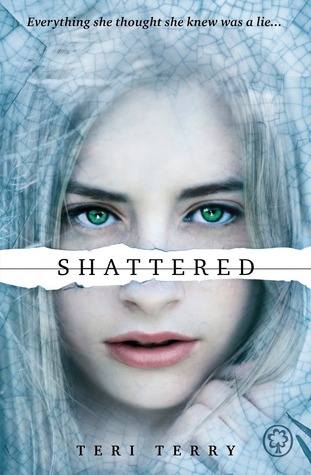 Synopsis
When you don't know who you are, how can you decide who you want to be?

Kyla was Slated: her mind wiped clean by the oppresive Lorder government. When forbidden memories of a violent past began to surface, so did soubts: could she trust those she had come to care for, like Ben? Helped by friends in MIA, she goes undercover, searching for her past and evading the authorities who want her dead. But the truth Kyla seeks is more shocking than she ever imagined.

---
Bullet-point review
★★★★★

+ great continuation
+ fast-paced
+ continually exciting/no dull moments
+ more secrets revealed!

 – evil genius seems a bit too crazy

---
Full Review
Shattered is the third book in the Slated trilogy. The premise of which is amazing! In this last book of the trilogy, more secrets are revealed with a steady pace, building on one another until the truth comes out!
A mind-blowing truth! And a bit too perfectly crafted, in my opinion. The evil genius behind this had been planning for years, perhaps over a decade, which to me, seems a bit far-fetched. Though of course, there are people crazy enough, so…
I absolutely loved this conclusion to the series! I can't tell you much more without spoiling the beginning, so check out my review of Slated and see if it's for you!
---