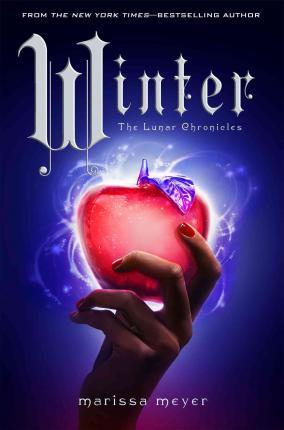 Synopsis
Princess Winter is admired by the Lunar people for her grace and kindness, and despite the scars that mar her face, her beauty is said to be even more breathtaking than that of her stepmother, Queen Levana.

Winter despises her stepmother, and knows Levana won't approve of her feelings for her childhood friend—the handsome palace guard, Jacin. But Winter isn't as weak as Levana believes her to be and she's been undermining her stepmother's wishes for years. Together with the cyborg mechanic, Cinder, and her allies, Winter might even have the power to launch a revolution and win a war that's been raging for far too long.

Can Cinder, Scarlet, Cress, and Winter defeat Levana and find their happily ever afters?

---
Bullet-point review
★★★★★

+ all the characters!
+ happily ever after
+ kick-ass princesses
+ Disney should make these books the official princess movies
+ heroine who deals with mental illness

 – Winter didn't have much to do

---
Full Review
Dystopian science-fiction fairytale retelling. Seriously, who wouldn't want to read that!? Throughout the first three books (I'm not counting Fairest, as it's a novella and I never read it), I fell in love with the main characters; mostly Scarlet and Cinder though. Not surprising, because the other characters had a lot less time devoted to them.
Because of this, Winter was a little less relatable than the other 'princesses'; she didn't seem to add much to the total story. However, it was great to see that someone who deals with a mental illness that is similar to schizophrenia can still be useful and loved even when they're dealing with debilitating hallucinations.
The book is filled with non-stop acting and plotting, which means that even though it's over 800 pages, there is not a dull moment to be found. It took me a little bit before getting into the story, also due to the fact that I read the other novels over a year ago, but once I was there, I couldn't put it down.
---