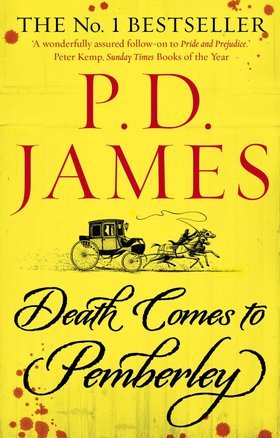 Synopsis
The year is 1803, Darcy and Elizabeth have been married for six years, and the orderly world of Pemberley seems unassailable. But all this is threatened when, on the eve of the annual ball, a chaise appears, rocking down the path from Pemberley's wild woodland. As it pulls up, Lydia Wickham – Elizabeth's younger, unreliable sister – stumbles out screaming that her husband has been murdered.
---
Bullet-point review
★★★★☆
+ Jane Austen – like writing style.
+ POVs from both Darcy and Elizabeth
+ cuteness of the Darcys and the Bingleys
– long-winded in places
---
Full Review
After reading (and loving) Children of Men by James, I was interested in picking up more of her work. When I spotted this one in a second hand shop, I knew I had to get it. It was also the kick in the pants I needed to finally read Pride and Prejudice.
The writing style and words used have been adapted to fit the style and time in which Pride and Prejudice was set, making it the perfect continuation. Unfortunately, just as in Pride and Prejudice, names are thrown about and at times it was a bit long-winded.
The mystery itself is intriguing, though I didn't have too much trouble figuring out whodunit. Reading about all these procedures and age-old investigative techniques was great. It is still surprising how much police then (and now, still) depended on witness statements. Oddly enough, the witness statements in this book were all correct, which seems statistically impossible (but let's not get into that, shall we?).
A brilliant old-timey mystery!
---