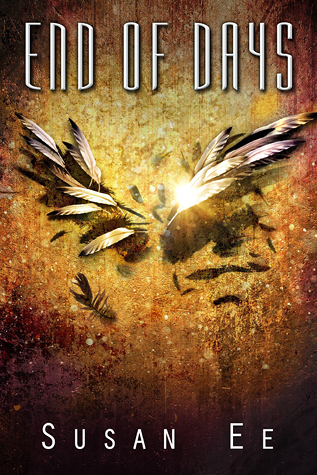 Synopsis
End of Days is the explosive conclusion to Susan Ee's bestselling Penryn and the End of Days trilogy. After a daring escape from the angels, Penryn and Raffe are on the run. They're both desperate to find a doctor who can reverse the twisted changes inflicted by the angels on Raffe and on Penryn's sister. As they set off in search of answers, a startling revelation about Raffe's past unleashes dark foreces that threaten them all.
When the angels release an apocalyptic nightmare onto humans, both sides are set on a path toward war. As unlikely alliances form and strategies shift, who will emerge victorious? Forced to pick sides in the fight for control of the earthly realm, Raffe and Penryn must choose: Their own kind, or each other?
---
Bullet-point review
★★★★☆
+ cuteness
+ Penryn's mom and sister are badass
+ fast read
+ Dee and Dum are geniuses
– ending could have been more satisfying
---
Full Review
I was excited to finish this series. I had never thought I'd ever like a book that was about angels. As the first thing I would think of was cherubs and cupid, those are like angels, right? How could those ever be evil? Ee has proven that they can be and that through story-telling she can grasp your attention till the very end.
Of course this story continues where the other one left off. I was especially amazed by the part Penryn's mom plays in this book. The part her sister plays is just plain creepy (and therefore just as fascinating). A trip to a new, but ancient place makes everything more confusing for just a moment, but eventually brings about the ending of the book.
I thought the ending would like this, though I had a couple of things in my head that were different. Mostly though, it's a bit predictable, but that wasn't a problem for me.
---