The Queen of the Tearling
Erika Johansen 
(cover art by Getty)
Bantam Press 2014
£12.99 (UK)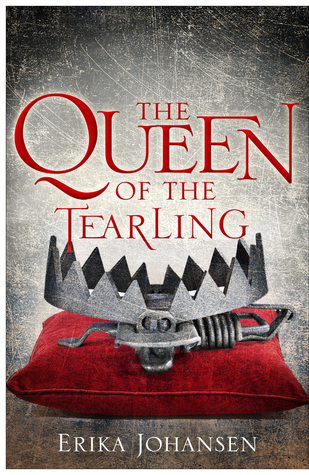 ★★★★☆
Synopsis
It was on her nineteenth birthday that the soldiers came for Kelsea Glynn. They came to escort her back to the place of her birth – to ensure she takes possession of what is rightfully hers.
But like many nineteen-year-olds, Kelsea is unruly, has high principles and believes she knows better than her elders. Unlike many nineteen-year-olds, she is about to inherit a kingdom that is on its knees – corrupt, debauched and dangerous.
Kelsea will either become the most fearsome ruler the kingdom has ever known… or be dead within the week.
Review
After getting this book from one of my fellow Dutch book-bloggers (thank you Annemieke!), I was a bit hesitant to read it, because she had told me she hadn't enjoyed it as much as she had hoped to. However, I did really enjoy this book.
I thought the main character was amazing, she showed such strength and determination to make things right, no matter what.
I loved the world building and I'm excited to find out more, because there's a lot more to explore and get to know! There's talk about the British and the Americans, though the world appears nothing like ours; I want to find out what happened!
The standard of vocabulary is a bit higher than in most other YA books I've recently read. This was a pleasant surprise.
There were a couple of things I was less pleased about, though these were only minor: there is some unnecessary cursing. I understand cursing when it's used for a reason, even to portray a character that talks that way. In this case however, I felt a lot of it was unnecessary. There are some other points of view in the book of which I've yet to discover the value, perhaps that will come in a sequel? Lastly, the story was slow paced, which in certain cases made it a bit hard to get through, as what was happening definitely wasn't slow.