Confessions of a Queen B*
Crista McHugh
(cover art by Sweet 'n Spicy Designs)
Crista McHugh (self-published) 2015
£ 7.99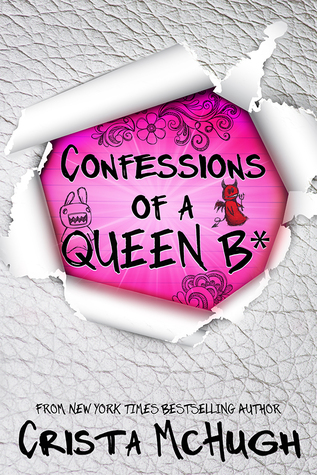 ★★★★☆
Synopsis* 
Alexis Windham is the other type of Queen B – the Queen Bitch.
After years of being the subject of ridicule, she revels in her ability to make the in-crowd cower via the exposés on her blog, the Eastline Spy. Now that she's carved out her place in the high school hierarchy, she uses her position to help the unpopular kids walking the hallways.
Saving a freshman from bullies? Check.
Swapping insults with the head cheerleader? Check.
Falling for the star quarterback? So not a part of her plan.
But when Brett offers to help her solve the mystery of who's posting x-rated videos from the girls' locker room, she'll have to swallow her pride and learn to see past the high school stereotypes she's never questioned – until now.
Review
This book really is just as advertised. Nothing more, nothing less. I can appreciate that. Lots of books promise big things, but just don't live up to it. This one, from the synopsis seems like a interesting, fast, easy-to-follow, high school drama – type read. And it was.
I have a weakness for everything high school drama; including musicals, movies, tv-shows and books. This book offers exactly that which I love about high school: the different cliques and the drama that comes with being in those (or not being in any).
Perhaps because I'm not from the USA, I find it fascinating to read about these cliques (all and any of them!). In the Netherlands, where I want to high school, there was no such thing. Sure, there were groups of friends, but not cliques in the way know them from the US high school movies.
Back to the book, the writing is average, and nothing spectacular, though definitely also not terrible. Just easy to read, and quick to get through. I really liked to story, although it's been done a million times before: high school geek falls for high school jock (She's all That, anyone?). This was obvious from the synopsis and I can't fault it for it.
Honestly, the book isn't super special, but I do enjoy some high school drama and everything that comes with it, so for me this was a perfect quick read.
*I won an Advance Review Copy from the author on Goodreads. This has in no way influenced by review.