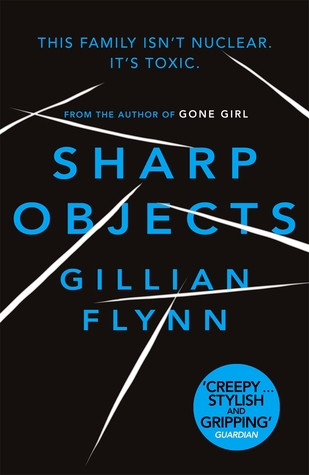 ★★★☆☆
Synopsis (trigger warning: automutilation)
It's been a while … but Camille Preaker has finally gone home.
Sent to investigate the disappearance of two little girls Camille finds herself reluctantly installed in the family mansion, reacquainting herself with her distant mother and precocious thirteen-year-old half-sister she barely knows. Haunted by a family tragedy, troubled by the disquieting grip her young sister has on the town, Camille struggles with a familiar need to be accepted.
But as clues turn into dead ends Camille finds herself identifying with the young victims and realizes: she will have to unravel the puzzle of her own past is she's to survive this homecoming.
Review
Let's start of by saying that I completely understand why people love this book. What ruined (well, still 3 stars) it for me, is that I figured out who did it about half way through. Sure, I was thrown off a bit after that first arrest, but then found satisfaction when in the last chapter I was proven right after all.
I'm not sure why I was able to figure it out so quickly. Perhaps it has something to do with my background in Forensic Psychology, where no one is excluded as a suspect, especially not when you know certain behaviors are very common for a certain type of criminal. That's about all I can hint at without spoiling anything.
The writing however, is still phenomenal. From the start, you want to know what's going on. The synopsis gave away all these little details, but reading, everything seems fairly normal. Sure, there are some things that make you go WTF, but mostly family life seems normal, until we get closer… and closer… and get to know more and more about Camille's family.
Read the book and judge for yourself. You might just love it!