MondSilberLicht
Marah Woolf
(cover art by Carolin Lieppens)
CreateSpace Independent Publishing Platform (2012)
€9,50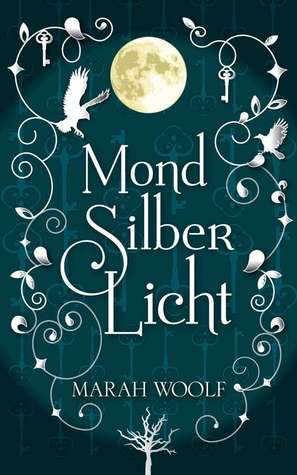 ★★★★☆
Synopsis (English translation below)*
"Schon als ich dich das erste Mal sah, hatte ich das Gefühl, dass du gar nicht gut für mich bist." Keiner ihrer Albträume hätte Emma auf die drastische Veränderung in ihrem Leben vorbereiten können. Aber nach dem plötzlichen Tod ihrer Mutter ist sie gezwungen, in die verschlafene Hauptstad der Isle of Skye, nach Portree, zu ihrem Onkel und dessen Familie zu ziehen. Das Letzte, mit dem sie rechnet ist, dass sie hier ihre große Liebe finden wird.
Vom ersten Augenblick an verfällt sie Calums geheimnisvoller Ausstrahlung. Er zieht sie unwiderstehlich in seinen Bann, woran auch sein allzu offensichtliches Desinteresse nur wenig ändert. Sein widersprüchliches Verhalten macht ihn für sie nur interessanter. Aber diese Fassade beginnt zu bröckeln… und irgendwann gibt auch er den Widerstand gegen seine eigenen Gefühle auf. Als er ihr eines Tages seine wahre Identität verrät, flieht sie vor ihm. Doch es ist zu spät, längst ist sie ihm bedingungslos verfallen.
"The first time I saw you, I already had the feeling that you're not good for me at all." None of her nightmares could have prepared Emma for the drastic change in her life. But, after the sudden dead of her mother, she has to move to her uncle and his family to the capital of the Isle of Skye, Portree. The last thing that she's expecting is that she'll find the love of her life here.
From the first moment, she falls for Calum's secretive presence. He puts her under his spell, which isn't alter by his obvious disinterest. But the façade starts to break down… and at some point he stops to  resist his own feelings. When he reveals his real identity one day, she flees from him. However, it's too late, she already fell for him unconditionally.
Review
Does the synopsis remind you of anything? I mean, it does sound quite a bit like Twilight, doesn't it? The story is very reminiscent of Twilight, so that's not very surprising. Unlike what's suggested in the synopsis however, the romance isn't all drama. At least, not as much as is suggested.
I hadn't read the synopsis before I opened up the book. A good friend had suggested it to me and lent me her copy, so I just picked it up and started reading. It takes a while for the story to properly start, though even the beginning turns out to be important again later on (which is good, because then it's not just pointless introductory writing). Eventually I found out it's a fantasy romance. (Highlight to read with what kind of creatures: mermaids)
The writing style throughout the books is really nice. It's easy to read, yet very detailed. One of those styles of writing that don't take a lot of brain power, but are still good.
I don't think I need to explain much about the plot when I say it's reminiscent of Twilight. However, what's good to point out, is that there's no stalking or invading people's personal space inappropriately. There's a bit of possessiveness coming from both parties, though that's something that didn't bother me, as it's quite common for young love.
This book ends on a cliffhanger, which actually wasn't a bad thing. The main story of the book itself ended, but then in the last chapter: BOOM. Cliffhanger! Which to me meant: on to the second book in this series.
I really enjoyed reading this book, but don't expect a work of great literacy; it's fun quick story for in between the heavy stuff.
The book has been translated to English for all those of you interested in it!
*Freely translated from German