I was tagged by Annemieke of A Dance with books, to do the Find Me tag. There are several categories, and for each one you'll have to try and find a book on your bookshelf. Let's see how I do.
Here are the rules:
1. Find a book in the 10 categories listed below, take a photo or post the cover.
2. Tag the next victims
3. Link back to Christy at Novel Ink!
Let's get started!
1. A book with a sunset
Requiem by Lauren Oliver – I'm not quite sure about this book. I loved the first book, but then hated the sequel (nothing happened, except a love triangle), this one was better again, but still not as good as the first book. Also, I don't understand why there was an additional perspective in this one. It seemed unnecessary.
2. A book with water
The Son of Neptune by Rick Riordan –  This wasn't too hard to find. I have a couple more books with water on the cover (including The Lightning Thief by Rick Riordan). I think I like this cover best though.
3. A book with a flower
Ignite Me by Tahereh Mafi – I had some other options for this one as well (e.g. New Moon by Stephanie Meyer). But honestly, isn't this like the most gorgeous cover ever? Also, I've got so many covers with eyes on them. I should do a top 10 of best covers with eyes or something. Oh yea, I also absolutely adore Mafi's writing!
4. A book with a heart
The Rosie Project by Graeme Simsion – I loved this book. It's such a cute read. It's about a man who's on the autism spectrum, though mostly it shows what happens when you make a list with qualities your wife should have, but then fall in love with someone who has hardly any of those qualities. It's really sweet and funny.
5. A book with gone in the title
Gone Girl by Gillian Flynn – I actually had two options for this one, the other one being Gone by Micheal Grant. I'd already used so many YA books though that I decided to go with a proper adult book this time.
6. A girl in a white dress
De Bijzondere Kinderen van Mevrouw Peregrine by Ransom Riggs (English title: Miss Peregrine's Home for Peculiar Children). – This is such a weird, strange, creepy book. All in a good way. The story itself is not particularly creepy, but some of the pictures definitely are.
7. A couple kissing
Smaragdgrün by Kerstin Gier (translated to English as: Emerald Green)- I know they're not technically kissing, but it's the best I had. Unless anyone would've preferred to see kissing and sex… Yea, I own some weird books. It's called Taoistische geheimen der Liefde I by Mantak Chia, and should explain the secrets of love. I haven't read it yet , and the cover isn't really appropriate.
8. A book with headphones
Kruistocht in Spijkerbroek by Thea Beckman (translated to English as: Crusade in Jeans)- There's no headphones on the cover, but the headphones are used in this book, so this is the best I can do. Also, one of my all time favorites, so if I can use that, why not?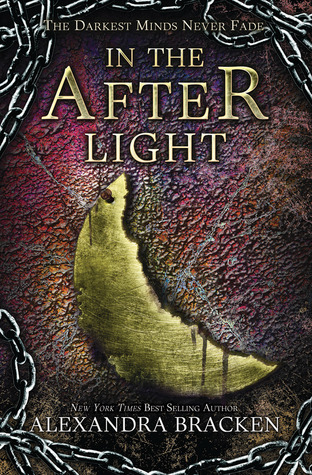 9. A book with a moon
In the Afterlight by Alexandra Bracken. – I love this series! I know it doesn't really look like a moon, more like a weird banana, but it's really supposed to be a moon. That was the whole point of the symbol. It's not a pretty moon though. The other moons I could've chosen from were also all comically drawn (The Curious Incident of the Dog in the Night Time by Mark Haddon or The Dead Fathers Club by Matt Haig).
10. A book with a weapon
Divided by Elsie Chapman – I had two pretty good choices (and some less good ones) for this prompt. I chose Divided, because that's the one I've read and loved! I also have an amazing copy of For whom the Bell Tolls by Ernest Hemmingway, but I haven't read it yet, so I didn't want to use it. Plus, Divided and the first book Dualed, should get a lot more attention, because they're awesome!
I'll tag a couple of people to do this as well:
Chelsy from chelsontheshelf
Pearl from bibliopearl
Urooj from Pencil Leads, Lined Papers and Tattered Bookspines
Henrieke from Henriekes.com
Aglaya from Aglayabooks