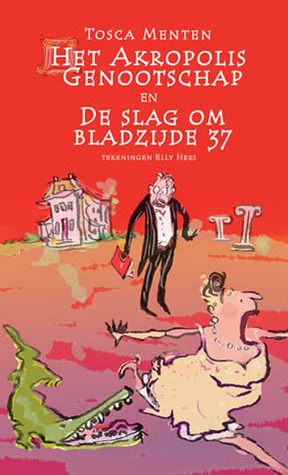 ★★★★☆
Synopsis (English translation below)*
Hoera! De familie Nootje heeft een kwart miljoen euro geërfd!
Helaas krijgen ze het geld alleen als ze lid worden van een vreemd Genootschap. En dat is nog niet zo gemakkelijk; ze moeten zich gaan houden aan de verschrikkelijke Regels van dat Genootschap én slagen voor een belachelijke Test. Het is alles of niets, dus vol goede moed gaan Luuk Nootje en zijn vader Huub aan de slag. Maar daar zijn een paar mensen helemaal niet blij mee…
Hurray! The Nootje family has inherited a quarter of a million euros!
Unfortunately they can only get the money if they become members of a strange Society. And that is not so easy; they have to stick to the horrible Rules of that Society and pass a ridiculous Test. It's all or nothing, so Luuk Nootje and his father get started. But a couple of people really aren't happy about that…
Review
When I picked up this book, I wasn't sure what to expect. It has such a ridiculous title and well, the cover doesn't predict anything normal either. Even after reading the synopsis on the back of the book, I wasn't convinced. However, I wanted to read something short and easy, and this was on top, so I got started.
I was right about one thing, this book is far from normal. The weirdest things happen and it's such a funny and quick (if you're an adult) read. It's a great book for younger children of about 6-10. When they get older, they might find it a bit childish. Obviously, that was expected, so that didn't bother me one bit.
I also loved how the main character Luuk and his best friend don't always get along. His friend is opposed to Luuk joining this Society, because he's afraid he'll lose the friendship. This, even though the book is quite ridiculous (in a good way), shows a deeper message. It also shows that resolving something like this, isn't quite as easy as it seems.
If you see it around anywhere and are looking for a quirky, funny, weird, quick read. Definitely pick it up! I'll be saving my copy for when I have kids one day.
Unfortunately for the non-Dutch speakers, this book hasn't been translated.
*Freely translated from Dutch