The Young Elites
Marie Lu
(cover art by Linda McCarthy)
Putnam 2014
$18.99 (US)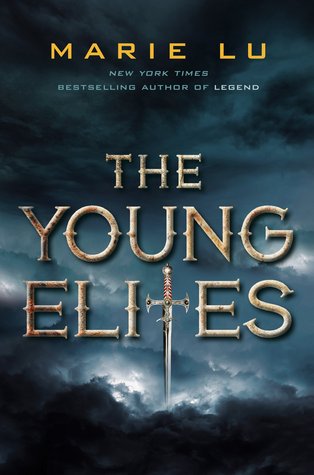 ★★★★☆
Synopsis 
Adelina Amouteru is a survivor of the blood fever. A decade ago, the deadly illness swept through her nation. Most of the infected perished, while many of the children who survived were left with strange markings. Adelina's black hair turned silver, her lashes went pale, and now she has only a jagged scar where her left eye once was. Her cruel father believes she is a malfetto, an abomination, ruining their family's good name and standing in the way of their fortune. But some of the fever's survivors are rumored to possess more than just scars – they are believed to have mysterious and powerful gifts, and though their identies temain secret, they have come to be called the Young Elites.
Teren Santoro works for the king. As Leader of the Inquisition Axis, is is his job to seek out Young Elites, to destroy them before they destroy the nation. He believes the Young Elites to be dangerous and vengeful, but it's Teren who may possess the darkest secret of all.
Enzo Valenciano is a member of the Dagger Society. This secret sect of Young Elites seeks out others like them before the Inquisition Axis can. But when the Daggers find Adelina, they discover someone with powers like they've never seen.
Adelina wants to believe Enzo is on her side and that Teren is the true enemy. However, the lives of these three will collide in unexpected ways, as each fights a very different and personal battle. But of one thing they are all certain: Adelina has abilities that don't belong in this world. A vengeful blackness in her heart. And a desire to destroy all who dare to cross her.
Review
Lu has written another amazing, suspenseful novel. It is great how from beginning to end, I was never bored reading this; there is constantly something going on. On top of that, we don't have to wait for the story to start. When we open up the book, it's already begun and were trying to not miss any more of it. Luckily, we eventually find out what happened before, by means of some back flashes. I prefer this myself, over having a story being told in chronological order and being bored  most of the beginning, because you have no idea where it's leading up to.
This bring me to another point, there is a clear story line. Sure, it's not all predictable and certain events might not make sense at the time, but there's an obvious place the story is going. Another plus for me. I dislike it when stories just start and you have no idea what the point of the author is. Not the case with the Young Elites!
The writing style and vocabulary use are perfectly executed as well. Through the words Lu chose to use and the way she's written everything down, you really deem yourself in a different realm. Not quite different from or own, but dissimilar enough that you know you're not in the world you know anymore.
I'm a little iffy about the addition of different perspectives. As a general rule, I don't like them, as mostly they add very little to the story. In this case, I can understand why Lu chose to add them, as it adds suspense. However, I still feel they weren't quite necessary. Perhaps more of this will become clear in the next installment.
Even though I thoroughly enjoyed reading the Young Elites, I still felt something was missing. I can't really but my finger on it though, there's just this little je ne sais quoi, this wow-factor that I feel it misses.